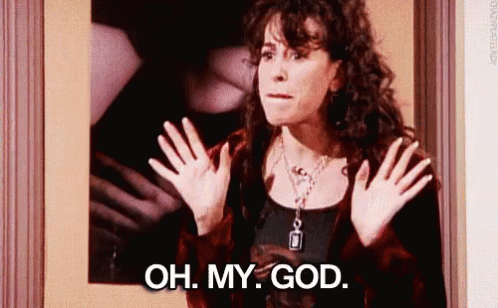 If you love Friends as much as I do, I'm pretty sure that this was your exact reaction when you heard the news about The Central Perk Colombo. Dedicated for nothing else but Friends, this got us super psyched. So much so, we decided to drop in for a First Look - two days after they opened their shop.
And here we are, back again for our full review.
Ambience
If you haven't been here yet, it is essential to note that this is not a replica of The Central Perk nor it's a branch of UK's popular cafe chain (which is closed now) of the same name.
Bits of bobs of Friends show is there, like this purple door of Monica's apartment, and the popular orange coloured couch where the gang used to hang out.

The rest of the space is occupied by wooden chairs and cushy seats, while the walls are decorated with posters featuring some of your favourite Friends quotes.
It's a three-storied building, and each floor caters to different encounters. The ground floor has only one table, which you can wait until your takeaway orders are ready, the 1st floor is the non-smoking lounge, while the 2nd floor has the smoking facility. These floors are well airconditioned and spacious, with lots of natural lights seeping through its glass windows.
They also have a rooftop area that allows you to enjoy quite a bit of sea breeze, alongside some great views of the city.
Food
Aside from the menu we observed last time, now they serve breakfast too, which is available from 9.00 AM to noon. We placed our order around, 11.30 AM, and therefore, we managed to score items from both menus.
This Chocolate Waffle (Rs. 550) comes from the breakfast menu. A generous layer of whipped cream sandwiched in between two waffles topped off with a scoop of chocolate ice cream and drizzled with chocolate syrup, it's a sweet way to kick off your morning.
I'm not the biggest fan of whipped cream, therefore it was a bit heavy for me. The waffle itself was fluffy, but we couldn't spot any crispy edges, and it seems to be on the doughy side. However, it didn't have a lot of sweetness to it, which is a plus point given that there are plenty of things on the plate to make up for it.
Named after the vegetarian of the group - Phoebe, Pheebo (Rs. 950) is their take on Creamy Mushroom Pasta. Soaked in white sauce lies the well-cooked Fusilli pasta with bits of chewy mushroom, and a few pieces of freshly cut tomato mixed in.
The parmesan add-on (Rs. 140) helps to sharpen up its flavours, while the tomato being a tangy delight. It's a simple dish, and we enjoyed it.

Joey Doesn't Share Food (Rs. 800) is the Chicken Shawarma at The Central Perk, which I had to share with my lunch partner. It comes with a helping of tomato ketchup, and a generous portion of chilli sprinkled French Fries on the side.
With chunks of roast chicken rinsed with a tangy sauce and the cheese add-on (Rs. 140), the filling here wasn't bad. However, we do think it'd be better if they can go easy on the sauce, so the chickeny flavours can emerge through and improve the overall flavour. Because right now, the tanginess of the sauce is somewhat overpowering.

We got a portion of Am I Weird (Rs. 380) this time around as well. It's their version of Sweet Potato Fries, and unlike last time, this one wasn't soggy, and had some crispiness, but yet has room for improvement.
Drinks
As for drinks, we got the Single Shot Cappuccino (Rs. 500) with Hazelnut (Rs. 140) and a Strawberry Mojo (Rs. 640).
The Cappuccino was a bit sweet for our liking, mainly because of the abundance of hazelnut syrup in it. There were hints of coffee emerging through, but not strong enough for a cappuccino.

Refreshing and fizzy, the Strawberry Mojo was sweet, yet had a tinge of limey flavour to balance it out. It's a bit pricy mojito, especially in comparison to the Mojito we tried at Cafe 97 with actual strawberry pulp. But, nonetheless, this one would do a good job beating the heat.
Service
The service at The Central Perk is quite efficient and helpful. We placed our food from the counter on the ground floor, and we were provided with a numbered bulb which is essentially our table number throughout the meal. The food took no longer than 15 minutes. Impressive!
Conclusion
Themed cafes aren't very common in Colombo, and The Central Perk is a welcome addition to this town. As I said before, it's not a recreation of the original Central Perk in the beloved sitcom, but something of a place that's dedicated for its fans. The food and drinks need to be improved, but aside from that, it's a good place to hang out, while catching up with your friends.